News
Self Management Strategies Can Lead to Benefits for Neck Pain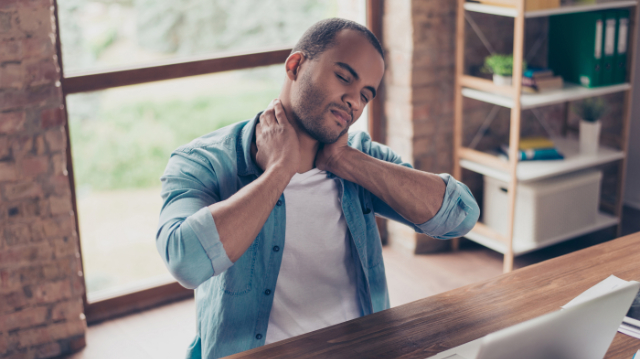 Most people who develop neck pain will improve without any interventions, usually within a few days or weeks. But for some, the problem continues or may even worsen. Between 50–85% of patients report symptoms that don't completely resolve, and almost half of these individuals will go on to develop chronic neck pain. This term is used to describe pain that lasts for more than three months, which can lead to additional issues like stress, anxiety, a reduced quality of life, and a tendency to avoid certain behaviors that could aggravate the pain.
It is therefore important to develop strategies to treat patients with chronic neck pain early to help them avoid further complications. Physical therapy is among the most reliable and effective treatments for neck pain in general, but research suggests that it may need to be supplemented by additional interventions for those with chronic neck pain to produce the best possible outcomes.
Study conducted to gauge the value of self–management for chronic neck pain
Self–management programs provide patients with the education and skills that are necessary to effectively manage their condition and improve their wellbeing in the long term. These types of programs have been used and researched in other populations with musculoskeletal pain, but not to a significant extent in those with chronic neck pain. Therefore, a study was conducted to determine if adding self–management treatment to a physical therapy program was more effective than physical therapy treatment alone for chronic neck pain patients.
For the study, patients with chronic neck pain for at least 6 months were recruited and screened for inclusion. This process led to 53 patients being accepted, who were randomly assigned to either the control group or the experimental group. Patients in the control group underwent a physical therapy program designed to improve the joint and soft tissue function, posture, coordination, and movement patterns. The sessions included manual therapy techniques, stretching exercises, and coordination and stabilization techniques.
Patients in the experimental group underwent the same physical therapy program as the control group plus a self–management program. This program was based on social learning theory and emphasized the importance of patients partnering with physical therapists to manage their own health. It was structured around giving patients more control of their treatments and included educational information, symptom management, problem–solving, and relaxation techniques. The program lasted 30 minutes and took place twice per week for four weeks. All patients were assessed before the interventions began, immediately afterwards, and three months later for several outcome measures, including neck disability, fear–avoidance beliefs, pain, and health–related quality of life.
Immediately after the interventions, patients in both groups experienced improvements in all variables, but the improvements in fear–avoidance beliefs, pain, and health–related quality of life were significantly greater in the experimental group than the control group. Similar results were identified at the three–month follow–up, as patients in the experimental group reported significantly greater improvements in all four outcomes—neck disability, fear–avoidance beliefs, pain, and health–related quality of life—than the control group.
These findings highlight the importance physical therapy for chronic neck pain, but also show that empowering patients with self–management strategies can help them experience even greater benefits. Therefore, patients with chronic neck pain are strongly encouraged to see a physical therapist for a comprehensive assessment and an individualized treatment program that will likely lead them to less pain, greater functionality, and a better overall quality of life.
August 23, 2022
See News
Disclaimer:
The information in the articles, posts, and newsfeed is intended for informational and educational purposes only and in no way should be taken to be the provision or practice of physical therapy, medical, or professional healthcare advice or services. The information should not be considered complete or exhaustive and should not be used for diagnostic or treatment purposes without first consulting with your physical therapist, occupational therapist, physician or other healthcare provider. The owners of this website accept no responsibility for the misuse of information contained within this website.